3d holographic advertising machine UT-3DZ2 3d holographic projection imaging rotating air suspension stereo imaging
naked eye 3d holographic advertising machine 3 d holographic projection imaging rotating air suspension stereo imaging
Product Picture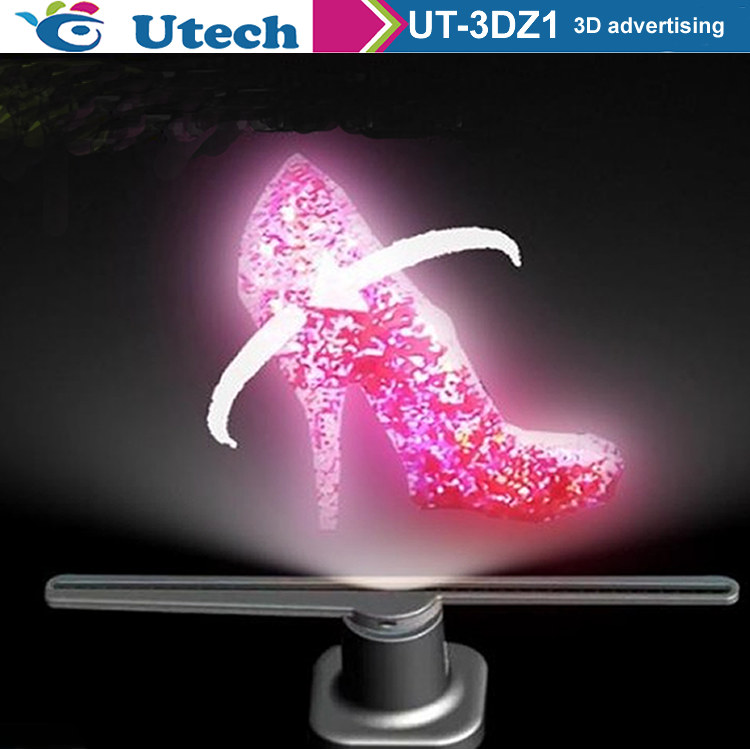 Specification

| Modle | UT-3DZ2 |
| --- | --- |
| Lamp | RGB0805LEDlight |
| Life of LED | 100,000 hours |
| LED quantity | 225pcs |
| Display Diameter | 500 * 500 * 100mm |
| Resolution | 512*512 |
| Viewing Angle | 180° |
| Input Voltage | AC110-240v, 50/60hz |
| Power | 10W-18W |
| TF/SD Card | 4G-32G |
| Software | Converting any black background video/image into LED format video/image |
| Display Support Format | mp4,avi,rmvb,mkv,gif,jpg,png with black background |
| Shell Material | ABS + PC + Hardware (include:Remote control) |
| Support | Wifi(That can use software update video content) |
| Weight | 3KG |
| Work environment | Indoor, non-waterproof |

* LED life: 100000 hours
* Continuous operation: more than 3W hours
* Available charging treasure power supply, 20000MA power supply 8 hours
* Working environment: indoor, waterproof (need to be equipped with plexiglass cover: diameter 50mm, thickness: 70mm)
* How to use it: on the wall, hand. To ground
* Reserved interface, multiple devices networking, can be achieved: (LCD splicing large screen)
* The effect can be used as PC extended screen travel holographic interaction.
* Remote control function: switch machine, play content switch, time, order, cycle times, automatic closing time, adjust brightness
* Use scenes: exhibitions, shops, shops, shopping malls, cinemas, subways, airports, hotels and other crowded areas.
Accessories